OUTSTANDING CORPORATE EVENTS
Outstanding Corporate DJ Entertainment, Photo Booths & Event Lighting for Louisville Kentucky. Our creative approach, innovative ideas, talent & technology allows us to create the type of Louisville Corporate Party you deserve. Packed dance floors and smiles wall to wall is what you can expect. We create events as unique as the companies we are honored to celebrate with. Exactly what you've envisioned for your modern Corporate Entertainment.
We offer customized entertainment packages based on your Entertainment & décor Lighting desires for a Louisville Corporate Party that is uniquely yours. From song selection to the order the formal events are performed.
During our planning meetings we will discuss ideas, activities & décor lighting that will reflect your own unique style and personality. Your ideas along with our creative talent and expertise will create a event that is uniquely yours – From the first song to the last dance. Be prepared to hear "that was the best party ever" from your guests.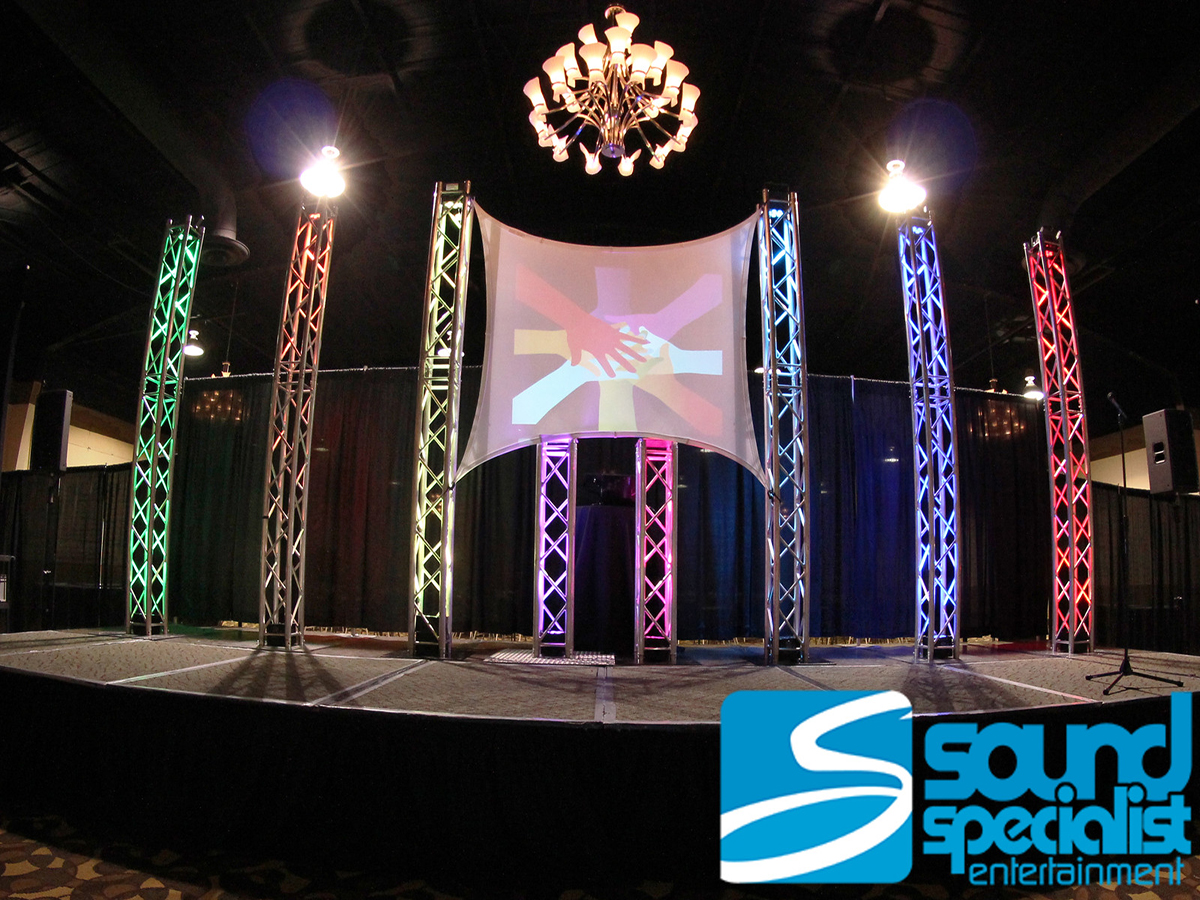 Sound Specialist Entertainment would be honored to provide DJ entertainment, complete event coordination & event lighting for the employees and guests of your company. Be prepared to hear; "that was the best party ever" from the guests. Unique One-of-A-Kind Setups, Video Screens, HD Large Format TVs, Company Name/Logo In Lights, Photo Booths, Incredible Décor Lighting, On-Line Music Requests and more.
Amazing personal service
Our team of talented DJs, Emcees & Lighting Technicians pride themselves on bringing unique ideas to each event. Rest assured you will meet directly with the DJ who will perform at your event when you reserve Sound Specialist Entertainment. No sales personnel. No runaround. No surprises. We provide the personalized attention needed to ensure your event will be a success.
Whether you are considering a music only package, or something more extravagant such as video screens, HD TVs, custom monograms or up lighting, we will work directly with you to create the perfect entertainment & event lighting package while remaining in line with your budget.
Sound Specialist Entertainment is one of the few full-time, fully insured DJ entertainment companies in Louisville Kentucky. We are always available to answer your questions & offer advise throughout the planning process of your event.

Is it between 9am – 7pm? If so, feel free to give us a call at the office 502.541.5015.